Shuttle's OMNINAS KD20 NAS wins "Recommend Award" from Noticias 3D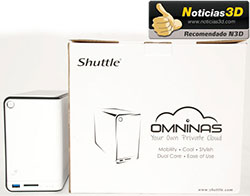 Noticias 3D, one of the biggest IT sites in Spain, has endorsed the brand-new Shuttle's OMNINAS KD20 with their "Recommended Award". Established in 2000, Noticias 3D is a website founded by four young students passionate about the world of the hardware. Since now Noticias 3D is dedicated to publishing news from the world of technology and the Internet, in addition to publishing the articles, always tried to maintain an objective viewpoint as possible, thus spreading knowledge on hardware as many people.

According to Noticias 3D reviewer" Shuttle has brought a self-made NAS has a simple configuration and firmware easy, ideal for homes and small business and offices. With OMNINAS KD20, not only have media server, download, files, media, etc., but we have scheduled backup services, USB 3.0, can install two hard drives, and myriad of options worth discovering. Also, it can be operated from a device with Android or iOS and will be right from where we can access all shared content in KD20 and configure the basics. The shuttle OMNINAS KD20 has very attractive price to be a NAS. We grant n3D Recommended Award."

Shuttle OMNINAS KD20 design with solid, stylish and low power consumption, featured two hot-swappable drive bays for up to and from two 4TB 3.5" hard disks and SSDs for a total capacity of 8TB. Drives can operate in RAID-1 mode (mirroring, for high data security), RAID-0(Striping, for maximum speed) or as JBOD. The KD20 uses an energy-saving dual-core processor, which enables rapid read/write data transfer. Speeds of 75/55 MB/s (read/write) have been achieved under optimal test conditions. Energy consumption is a miserly 9W in sleep mode and just 15.5W in operation.

---
About Shuttle
Founded in 1983, Shuttle Inc. (TAIEX 2405) is the world's leading manufacturer of Small Form Factor (SFF) Computers, so far, Shuttle's hardware product development has extended to slim PCs, AIO PCs, Notebooks and Tablets for home, business and vertical applications as Digital Signage, POI/POS and Kiosk.To answer the trends of IoT and cloud applications, Shuttle started to build up its software and integration R&D capabilities since 2011 and launched numerous of smart solutions for Face Recognition, Education, Home Automation and Long-term Care applications.
Contact US
Marketing Dept.
No. 30, Lane 76, Rei Kuang Rd.,
Nei-Hu Dist., Taipei, Taiwan
Tel: +886-2-8792-6168
Fax: +886-2-8792-6268
E-mail:
shuttlepr@tw.shuttle.com