Shuttle's mini-PC wins its 6th Award, a Gold Medal from XtremeHardware.com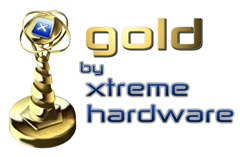 The SZ87R6, a compact and high-performance mini-PC made by Shuttle Inc., has been awarded 5 Stars from XtremeHardware.com, an IT news and review platform based in Italy. This is the sixth award in a row won by the SZ87R6 since its release last year. The SZ87R6 is a barebone PC with proven success in a wide range of applications, from high-performance gaming to multi-display digital signage.

The SZ87R6 is the latest in a long line of mini-PCs going all the way back to the world's first-ever mini-PC made by Shuttle. The sleek aluminum chassis is 1/3 the size of a traditional tower desktop and houses a barebone powerful enough to support Intel® Core™ i3/i5/i7 processors and dual-slot graphics cards. The Gold Medal award from XtremeHardware.com comes after a battery of tests on performance, thermal cooling, power consumption, quality of materials, and overclocking.

Thanks to Shuttle's Integrated Cooling System (ICE2®), the mini PC "emits [merely] a slightly audible hum," according to XtremeHardware.com. The device has a 500W power supply and is 80 Plus Bronze certified. It scored 4 out of 5 stars for low power consumption during testing by XtremeHardware.com. The reviewer states, "The SZ87R6 is definitely dedicated to those looking for a compact but powerful computer [that does] not sacrifice performance. [It] was able to assure us excellent performance without physical limits."

The SZ87R6 is designed for both commercial and consumer use. For digital signage applications, the SZ87R6 can be configured with high-end VGA cards and integrated into video wall systems made to deliver large scale digital signage. Its low power consumption and cool operation makes the SZ87R6 a stable option for commercial applications where continuous use is required.

For gaming enthusiasts and those looking for a capable Digital Home Entertainment system, the SZ87R6 supports overclocking with installation of Intel® K-series processors.

---
About Shuttle
Founded in 1983, Shuttle Inc. (TAIEX 2405) is the world's leading manufacturer of Small Form Factor (SFF) Computers, so far, Shuttle's hardware product development has extended to slim PCs, AIO PCs, Notebooks and Tablets for home, business and vertical applications as Digital Signage, POI/POS and Kiosk.To answer the trends of IoT and cloud applications, Shuttle started to build up its software and integration R&D capabilities since 2011 and launched numerous of smart solutions for Face Recognition, Education, Home Automation and Long-term Care applications.
Contact US
Marketing Dept.
No. 30, Lane 76, Rei Kuang Rd.,
Nei-Hu Dist., Taipei, Taiwan
Tel: +886-2-8792-6168
Fax: +886-2-8792-6268
E-mail:
shuttlepr@tw.shuttle.com