Shuttle announces the latest edition of ultra-slim Full HD PCs: XS35V4 and XS36V4
2014/04/28
Global / Product launch
Shuttle Inc., the global leader in small form factor computer technology, today announces two new slim PCs to its XS series, the XS35V4 and the XS36V4. The systems deliver higher processing power, increased energy efficiency, and enhanced Full HD graphics to meet the ever changing demands of commercial markets. The all-new XS series is made for thin client, POS, POI, queuing machine and digital signage applications.

The XS35V4 and XS36V4 offer all-around performance at an attractive price for system integrators, installers, and end-users working within retail, hospitality, government, healthcare, or education industries – pretty much anywhere a computer is. The series runs on a mere 40 watt adapter and integrate an Intel® Bay Trail processor for low-power consumption. With Intel® HD graphics technology built into the CPU, both are able to deliver Full HD video content. The 35V4 and 36V4 feature a respective body thickness of only 38.5mm and 36mm and are VESA mountable, designed for easy integration into places with limited space.

Shuttle's XS35V4 and XS36V4 differ in regards to their connectivity and storage.
• 35V4: 38.5mm body-thickness, equipped with an internal USB port, keeping USB connected devices safe from harm in public places. The thin client also supports a 12.7mm slim ODD.
• 36V4: 36mm body-thickness, designed for commercial applications which require greater connectivity and provides two (2) Com Ports (RS232 and RS232/422/485).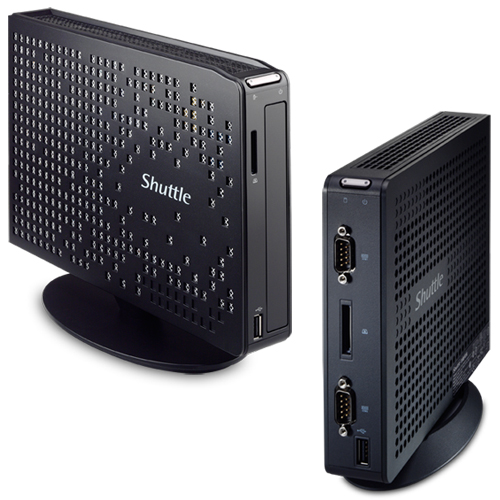 Both systems provide USB3.0 and USB2.0 interface and support dual display via 1) D-Sub + HDMI, 2) D-Sub + DisplayPort, and 3) HDMI + DisplayPort configurations. The devices are both 24/7 certified and use a fanless cooling system, designed for long-term operation within retail, hospitality, transportation, government, healthcare industries, and more.
---
About Shuttle
Founded in 1983, Shuttle Inc. (TAIEX 2405) is the world's leading manufacturer of Small Form Factor (SFF) Computers, so far, Shuttle's hardware product development has extended to slim PCs, AIO PCs, Notebooks and Tablets for home, business and vertical applications as Digital Signage, POI/POS and Kiosk.To answer the trends of IoT and cloud applications, Shuttle started to build up its software and integration R&D capabilities since 2011 and launched numerous of smart solutions for Face Recognition, Education, Home Automation and Long-term Care applications.
Contact US
Marketing Dept.
No. 30, Lane 76, Rei Kuang Rd.,
Nei-Hu Dist., Taipei, Taiwan
Tel: +886-2-8792-6168
Fax: +886-2-8792-6268
E-mail:
shuttlepr@tw.shuttle.com