Shuttle launches 3-display digital signage player
2014/11/03
Global / Product launch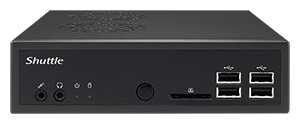 Shuttle Inc. today announces its newest digital signage player, DS87, built to support Core™ i3/i5/i7 65W processors and three-display digital signage. The DS87 is an impressively versatile and high-performance player made to be easily integrated into a variety of digital signage applications. Its slim metal chassis, including VESA mount capability, versatile connectivity and reliable operation in up to 50°C ambient temperatures makes the DS87 ideal for Digital Signage, POS, vending machine, and other professional applications.

The DS87 is a barebones media player equipped with an Intel® H87 chipset, supporting 4th Generation Intel® Core™ i3/i5/i7, Pentium, and Celeron processors (65W). The system is designed to drive highly interactive digital signage applications, including things like multi-touch response, gesture interactivity, and high resolution video content. With Intel® HD graphics integrated onto the CPU and three video outputs, the DS87 is capable of delivering both Full HD and even up to 4K with the use of a Core™ i3/i5/i7 CPU.

The DS87 can drive Full HD content to three independent displays, making it a cost-effective media player option for applications which require more than two displays. Perhaps most applicable to digital signage where industry trends are towards more immersive signage, the DS87 can be an alternative solution to buying additional media players or video switch boxes. In addition, installers may also choose the DS87 to display ultra HD content on one ultra HD monitor.

Built to operate in a variety of environments, the DS87 is VESA mountable and can be either mounted behind a display panel, placed inconspicuously atop a desktop, even operate within 0-50 ⁰C ambient environments. It is 24/7 certified and runs quiet and cool for extended periods of time. Featuring lots of connectivity, the player is able to power multiple peripherals via six USB2.0 ports, two USB3.0 ports, two RS232 ports (one of which is 422/485 compatible), and dual gigabit LAN ports.

The DS87 is now being distributed globally.
---
About Shuttle
Founded in 1983, Shuttle Inc. (TAIEX 2405) is the world's leading manufacturer of Small Form Factor (SFF) Computers, so far, Shuttle's hardware product development has extended to slim PCs, AIO PCs, Notebooks and Tablets for home, business and vertical applications as Digital Signage, POI/POS and Kiosk.To answer the trends of IoT and cloud applications, Shuttle started to build up its software and integration R&D capabilities since 2011 and launched numerous of smart solutions for Face Recognition, Education, Home Automation and Long-term Care applications.
Contact US
Marketing Dept.
No. 30, Lane 76, Rei Kuang Rd.,
Nei-Hu Dist., Taipei, Taiwan
Tel: +886-2-8792-6168
Fax: +886-2-8792-6268
E-mail:
shuttlepr@tw.shuttle.com