Shuttle Shows You Across Extreme Boundaries
2007/08/21
Global / Product launch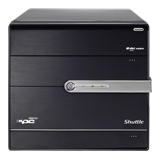 (Taipei, Taiwan, 21st August 2007) Shuttle Inc. – leading designer and manufacturer of small form factor (SFF) computers and accessories today announced the launch of its first AMD platform XPC Glamor series – the Shuttle XPC Glamor SN68PTG5 and the more powerful Shuttle XPC Glamor SN68PTG6 Deluxe.

The Shuttle AMD platform XPC Glamor series SN68PTG5 and SN68PTG6 Deluxe supports the current AM2 and also future coming AM2 Multi-core processors. Designed based on NVIDIA® nForce® 630a with integrated NVIDIA® GeForce® 7050 PV graphics solution delivering breathtaking high definition graphics performance, powered by NVIDIA® PureVideo technology produces unprecedented clarity, video smoothness and sharper colors. Built into the Shuttle XPC Glamor series are Dolby® Digital Live! and DTS™ 7.1 Connect surround sound effects, the perfect combination for spectacular HD video graphics (HDMI/HDCP) with cinematic surround sound effects. If a single display is insufficient then take advantage of the dual display feature available on the Shuttle XPC SN68PTG5 and SN68PTG6 Deluxe.

Gain access to your home wireless network with the built-in WiFi 802.11b/g onboard the SN68PTG5/ SN68PTG6 Deluxe for easy and quick file sharing or stream online multimedia contents directly online. With selected models on the Shuttle XPC Glamor series, the latest high-speed Bluetooth 2.0+EDR allows instant pairing with your mobile phones for file sharing or Bluetooth headphone for some personal quiet time.

Incorporating Shuttle's innovative USB Speed-Link technology allowing fast file transfer between 2 PCs via a standard USB cable no more hassles with cables settings or networking equipments. Advanced fingerprint recognition security provides an added layer of protection to your system and you can also say goodbye to usernames and passwords. Shuttle's proprietary over-clocking feature coupled with ICE2 (Integrated Cooling Engine) technology, you can run your machine harder and cooler.

For the latest information and specification on the Shuttle AMD platform XPC Glamor series, please visit our official Shuttle website: http://www.shuttle.com/

Technical details:
Shuttle XPC Glamor Series

* NVIDIA® GeForce 7050PV/630a
* Supports AMD® Athlon™64 X2, Athlon™64 and Sempron™ series, Hyper Transport 1.0
* Max. 4 GB Dual Channel DDR2 800 (OC to 1066 MHz)
* NVIDIA® GeForce7050PV with HDMI/HDCP
* 8-Channel HD Audio with Dolby® Digital Live! and DTS® Connect
* 1x PCI-E X16, 1x PCI
* Gigabit LAN
* 2x Firewire, 6x USB 2.0
* 2x SATA2, 2x eSATA
* Bluetooth 2.0+EDR (Deluxe model only)
* 802.11b/g WiFi (Deluxe model only)
* USB Speed-Link Technology (Deluxe model only)
* Fingerprint Recognition Security (Deluxe model only)
* 250-Watt power supply / 300-Watt power supply (Deluxe model only)
* 310(L) x 200(W) x 185(H) mm

About Shuttle Inc.
Established in 1983 and publicly listed since 2000, Shuttle Inc (TAIEX 2405) is an industry leading designer and manufacturer of small form factor (SFF) computers and accessories. Shuttle produced the first commercially-successful SFF computer and continues to define the segment with its platform defining XPC product line.
---
About Shuttle
Shuttle Inc. (stock code: 2405) focuses on software and hardware integration and IoT application to develop solutions to meet commercial and vertical market needs, including mini-PCs, multimedia players, digital signage, kiosk, face recognition, and IoT custom design services. With enduring research on emerging technologies, regarding users' experience as a priority, Shuttle continuously offers diversified services to help clients create more business value.
Contact US
Marketing Dept.
No. 30, Lane 76, Rei Kuang Rd.,
Nei-Hu Dist., Taipei, Taiwan
Tel: +886-2-8792-6168
Fax: +886-2-8792-6268
E-mail:
shuttlepr@tw.shuttle.com