Shuttle XPC Media Center Launches into the Consumer Electronics Market
2005/10/17
Global / Product launch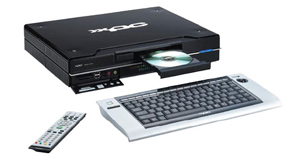 The Shuttle XPC Media Center brings you to the forefront of home multimedia convergence. With functions that mirror those of VCR, CD, DVD, and receiver appliances, this fully integrated media platform makes it easy to enjoy TV, video, music and photographs with your friends and family.

Shuttle has today expanded its multi-award winning XPC product range with a new system specifically tailored for the growing digital entertainment market.

"The Shuttle XPC Media Center combines advanced power and noise reduction technologies, industry leading audio and video capabilities, and a powerful yet easy to use software interface to create an entertainment focused home computer ideal for the living room," announced Ken Huang, chief designer and architect of the XPC.

The Shuttle XPC Media Center comes fully loaded with the latest advances in PC hardware all packaged in a stylish case that merges elegantly within any home entertainment center. A performance video graphics accelerator and up to 2 digital or analog tuner cards allow movies, TV shows, online video content and games to be enjoyed on any TV or monitor, while Creative's leading Sound Blaster Live! audio processor delivers up to 7.1 channels of high-definition surround sound. Built-in industry standard USB and FireWire connectors allow high-speed transfers to digital cameras and music players, and fully integrated LAN and wireless networking capabilities enable content to be shared with other Media Center compatible devices around the home.

The launch of the Shuttle XPC Media Center is being timed to coordinate with the release of Update Rollup 2 for Microsoft Windows XP Media Center Edition 2005. When developing the Shuttle XPC Media Center, engineers worked closely with Microsoft to ensure the system would work flawlessly with the new features added to the operating system, including Away Mode, dual tuner support, and compatibility with new Media Center Extender devices and Xbox 360.

For more information about the Shuttle XPC Media Center and the features of Windows XP Media Center 2005 visit: http://global.shuttle.com/products/productsDetail?productId=98

Availability of the Shuttle XPC Media Center is subject to regional variation. Contact your local sales representative for further details.


---
About Shuttle
Founded in 1983, Shuttle Inc. (TAIEX 2405) is the world's leading manufacturer of Small Form Factor (SFF) Computers, so far, Shuttle's hardware product development has extended to slim PCs, AIO PCs, Notebooks and Tablets for home, business and vertical applications as Digital Signage, POI/POS and Kiosk.To answer the trends of IoT and cloud applications, Shuttle started to build up its software and integration R&D capabilities since 2011 and launched numerous of smart solutions for Face Recognition, Education, Home Automation and Long-term Care applications.
Contact US
Marketing Dept.
No. 30, Lane 76, Rei Kuang Rd.,
Nei-Hu Dist., Taipei, Taiwan
Tel: +886-2-8792-6168
Fax: +886-2-8792-6268
E-mail:
shuttlepr@tw.shuttle.com