Shuttle Launches Complete System Management Utility, XPC Tools
2005/09/07
Global / Product launch

Shuttle Inc, the worldwide leader in small form factor hardware, is proud to announce the immediate availability of XPC Tools, a powerful yet easy to use system management utility, designed exclusively for the XPC. XPC Tools enables XPC users to monitor, in real-time, system performance and thermal characteristics, and to adjust the XPC's Smart Fan features accordingly.

"XPC Tools gives you complete control over your XPC," explained Troy Yang, Product Manager. "Safely and instantly increase bus speeds and voltages for extreme performance and stability when gaming, or configure optimal Smart Fan settings to keep your XPC 'Super Quiet, Super Cool' while you watch movies or work. XPC Tools' versatile profiles system allows you to create, save and load customized settings for any use or activity."

XPC Tools also adds features to XPC systems with Shuttle's Versatile Front-panel Display accessory, allowing users to configure it to show a range of useful information including system temperatures, fan speeds, and even a customizable message.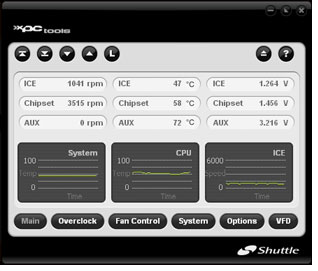 In the months since users first saw XPC Tools, the program has been completely redesigned with a new user interface, and the number of systems supported has been greatly increased. The utility has also been written to fully support multiple languages. The XPC Tools website has been expanded with new features including a complete online user manual, a 'Spread the Word' community feature, and the option for downloaders to sign up to a Shuttle mailing list. This all marks a new policy for Shuttle to encourage more direct interaction between itself and end-users.

XPC Tools is offered free to XPC owners around the world. More information can be found on the XPC Tools website.

Shuttle would like to extend its gratitude to the numerous XPC users who helped out testing this utility prior to release, and to Frank Gutfleisch of gesamtbild designs for his outstanding work on the GUI.
---
About Shuttle
Shuttle Inc. (stock code: 2405) focuses on software and hardware integration and IoT application to develop solutions to meet commercial and vertical market needs, including mini-PCs, multimedia players, digital signage, kiosk, face recognition, and IoT custom design services. With enduring research on emerging technologies, regarding users' experience as a priority, Shuttle continuously offers diversified services to help clients create more business value.
Contact US
Marketing Dept.
No. 30, Lane 76, Rei Kuang Rd.,
Nei-Hu Dist., Taipei, Taiwan
Tel: +886-2-8792-6168
Fax: +886-2-8792-6268
E-mail:
shuttlepr@tw.shuttle.com