Shuttle Delivers High Definition to Your Doorsteps
2007/08/27
Global / Product launch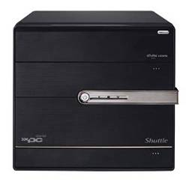 (Taipei, Taiwan, 28th August 2007) Shuttle Inc. – leading designer and manufacturer of small form factor (SFF) computers and accessories today announced the launch of its first generation XPC Glamor series – the Shuttle XPC Glamor SG33G5 PRO and Shuttle XPC Glamor SG33G6 Deluxe supporting dual display for mainstream users.

The Shuttle XPC Glamor series SG33G5 PRO and SG33G6 Deluxe are designed for the upcoming Intel® 45nm Core™2 Multi-Core processors means your platform is compatible with future processors. The Intel® G33 Express Chipset also features Intel® Graphics Media Accelerator 3100 providing a higher quality and richer graphical experience. Onboard the Shuttle XPC Glamor series are Dolby® Digital Live! and DTS™ 7.1 Connect surround sound effects combined with stunning HD video graphics your complete entertaining experience will be a bliss. If dual display is your thing, then without needing additional graphic cards, you can enjoy it all with the Shuttle XPC SG33G5 Pro and SG33G6 Deluxe.

Laptops are not the only computer with built-in wireless network, standard on the Deluxe model and optional for the Pro model the Shuttle XPC Glamor series will provide access to WiFi 802.11b/g wireless connection with your home network, sharing all your digital images, audios and videos with ease or stream online movies directly from the Internet. On selected models the latest high-speed Bluetooth 2.0+EDR allows pairing with your mobile phones for file sharing or Bluetooth headphone for listening to your favorite music when you do not want to be disturbed.

It's not just stylish modern exterior of the Shuttle XPC Glamor SG33G5 Pro and SG33G6 Deluxe, but with Shuttle's innovative USB Speed-Link technology it allows file sharing between 2 PCs via a standard USB cable, no more hassles with addition cables or networking equipments, and you can be certain all your data and personal details are in safely protected by advanced fingerprint recognition security, say goodbye to usernames and passwords.

For the latest information and specification on the Shuttle XPC Glamor series, please visit our official Shuttle website: http://www.shuttle.com/

Technical details:
Shuttle XPC Glamor Series

* Intel® G33 Express / ICH9DH
* Supports Intel® Core™ 2 Quad, Core™ 2 Duo E6000/E4000 Series, Pentium Dual-Core E2000 Series, Celeron 400 Series with 775 socket, FSB 1333
* Max. 4 GB Dual Channel DDR2 800 (OC to 1066 MHz)
* DX9 ready Intel® GMA3100 graphics with HDMI/HDCP
* 8-channel audio with Dolby® Digital Live! and DTS® Connect
* 1x PCI-E X16, 1x PCI
* Gigabit LAN
* 2x Firewire, 6x USB 2.0
* 3x SATA2, 2x eSATA
* USB Speed-Link Technology
* Fingerprint Recognition Security
* Bluetooth 2.0+EDR (Deluxe model only)
* 802.11b/g WiFi (Deluxe model only)
* 250-Watt power supply / 300-Watt power supply (Deluxe model only)
* 310(L) x 200(W) x 185(H) mm

About Shuttle Inc.
Established in 1983 and publicly listed since 2000, Shuttle Inc (TAIEX 2405) is an industry leading designer and manufacturer of small form factor (SFF) computers and accessories. Shuttle produced the first commercially-successful SFF computer and continues to define the segment with its platform defining XPC product line.
---
About Shuttle
Shuttle Inc. (stock code: 2405) focuses on software and hardware integration and IoT application to develop solutions to meet commercial and vertical market needs, including mini-PCs, multimedia players, digital signage, kiosk, face recognition, and IoT custom design services. With enduring research on emerging technologies, regarding users' experience as a priority, Shuttle continuously offers diversified services to help clients create more business value.
Contact US
Marketing Dept.
No. 30, Lane 76, Rei Kuang Rd.,
Nei-Hu Dist., Taipei, Taiwan
Tel: +886-2-8792-6168
Fax: +886-2-8792-6268
E-mail:
shuttlepr@tw.shuttle.com