Shuttle XPC SD31P: Bit-tech recommended
2005/07/20
Global / Awards & Review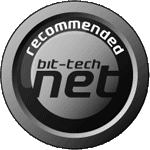 Bit-tech - the leading independent hardware review and PC modification site in the UK - has released one of the first in depth reviews of Shuttle's newest small form factor barebone, the dual core ready XPC SD31P.
Designed to meet the demands of the latest audio/visual formats such as high-definition video and multi-channel surround sound, the XPC SD31P features dedicated onboard sound and graphics processors that help make it the ideal solution for a low-cost, high-performance multimedia workstation for your home or office.

Installing components and setting up the XPC SD31P is easy thanks to Shuttle's innovative toolless design and integrated cable management system. Reviewer Tim Smalley said,

"[T]he design of the chassis is genius. It is clear that the chassis was designed to be easy to install components in to from the ground up... There are many little things included that just make installation a breeze."

In performance tests, the XPC SD31P compares favorably with desktop systems with similar specifications, while still delivering all the benefits of the Shuttle XPC form factor - small size, low noise, and low temperatures. Shuttle's exclusive Silent X technology, intelligently engineered airflow, and automatic system monitoring and control software, Smart Fan, help keep the XPC SD31P "Super Quiet, Super Cool"

"The SD31P is small, good-looking, and quiet. Not only that, but I've already seen the benefits of running a dual-core system for Media Center...This Shuttle would make a terrific base for a living room PC."

The XPC SD31P's combination of media optimized hardware components, value added features, and overall user-friendly design earned a coveted 'Recommended Award' from the Bit-tech team.

"[I]f you are a heavy desktop and media user like myself, I suggest that you give this chassis some serious consideration."
---
About Shuttle
Shuttle Inc. (stock code: 2405) focuses on software and hardware integration and IoT application to develop solutions to meet commercial and vertical market needs, including mini-PCs, multimedia players, digital signage, kiosk, face recognition, and IoT custom design services. With enduring research on emerging technologies, regarding users' experience as a priority, Shuttle continuously offers diversified services to help clients create more business value.
Contact US
Marketing Dept.
No. 30, Lane 76, Rei Kuang Rd.,
Nei-Hu Dist., Taipei, Taiwan
Tel: +886-2-8792-6168
Fax: +886-2-8792-6268
E-mail:
shuttlepr@tw.shuttle.com