HardwareZone Gives XPC SN25P 5 Star Award
2005/06/14
Global / Awards & Review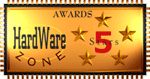 Shuttle Inc's flagship AMD barebone the XPC SN25P has earned yet another best performance award, this time from the reviewers at HardwareZone, S.E. Asia's top hardware and gaming news and reviews publisher.
All the unique features that have won Shuttle praise in the past were mentioned again by reviewer Vincent Chang. From the innovative toolless drive bay that makes installing up to 4 drives a simple operation, to support for advanced features such as RAID and overclocking, making the XPC SN25P an ideal platform for DIY and performance enthusiasts.

As reported by previous reviewers, the XPC SN25P delivered outstanding performance. During benchmarks the XPC SN25P 'held its own' against a comparable full-sized system, and even proved itself superior in applications requiring high memory bandwidth and/or excellent 3D performance. These results indicate that the XPC SN25P is not just the best platform for gaming in the small form factor sector, but it is in fact one of the best in the entire desktop PC market.

"Those who have always wanted a high-end AMD Athlon 64 to grace their living rooms or LAN parties do not have to despair anymore; Shuttle's XPC SN25P provides the answer."

Since its release early 2005, the XPC SN25P has remained the most powerful SFF PC for the AMD platform. This is thanks to Shuttle's continual dedication to supporting leading edge technologies such as 64-bit operating systems and dual core processors.
---
About Shuttle
Founded in 1983, Shuttle Inc. (TAIEX 2405) is the world's leading manufacturer of Small Form Factor (SFF) Computers, so far, Shuttle's hardware product development has extended to slim PCs, AIO PCs, Notebooks and Tablets for home, business and vertical applications as Digital Signage, POI/POS and Kiosk.To answer the trends of IoT and cloud applications, Shuttle started to build up its software and integration R&D capabilities since 2011 and launched numerous of smart solutions for Face Recognition, Education, Home Automation and Long-term Care applications.
Contact US
Marketing Dept.
No. 30, Lane 76, Rei Kuang Rd.,
Nei-Hu Dist., Taipei, Taiwan
Tel: +886-2-8792-6168
Fax: +886-2-8792-6268
E-mail:
shuttlepr@tw.shuttle.com