XP17 TempAR: Premium quality, design, performance
2005/03/15
United States / Review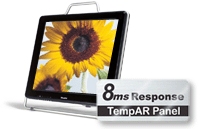 Extremetech, the one-stop-website for serious technological needs, has reviewed our new-for-2005 XP17 TempAR Flat Panel Display (FPD). Featuring a new 8ms LCD panel as well as best-of-class TempAR panel, this immaculate display targets LAN gamers, style conscious users and professionals users that demand more than just standard products.
"Shuttle continues to drive innovation in the SFF PC market, and that innovation has now extended into displays that match its XPC line of systems, both in looks and quality," awed Extremetech reviewer Dave Salvator. "If you want to be the envy of your LAN party buds (and pick up a solid display too), then the XP17 won't disappoint."

Made to match the exacting design aesthetics of the world's best-selling SFF computer, the XP17 excels as the only truly portable 17" FPD. With a host of features to make transportation safe and easy, such as integrated carry handle, super-hard glass panel and rugged build, the XP17 also slides nicely into an optional carrying bag (PF50) for added protection and ease.
---
About Shuttle
Founded in 1983, Shuttle Inc. (TAIEX 2405) is the world's leading manufacturer of Small Form Factor (SFF) Computers, so far, Shuttle's hardware product development has extended to slim PCs, AIO PCs, Notebooks and Tablets for home, business and vertical applications as Digital Signage, POI/POS and Kiosk.To answer the trends of IoT and cloud applications, Shuttle started to build up its software and integration R&D capabilities since 2011 and launched numerous of smart solutions for Face Recognition, Education, Home Automation and Long-term Care applications.
Contact US
Marketing Dept.
No. 30, Lane 76, Rei Kuang Rd.,
Nei-Hu Dist., Taipei, Taiwan
Tel: +886-2-8792-6168
Fax: +886-2-8792-6268
E-mail:
shuttlepr@tw.shuttle.com