Shuttle named No1. SFF maker 2004
2005/02/18
Global / Awards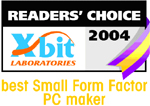 Shuttle named No1. SFF maker for 2004 for the second year in a row! Xbit Labs, one of Russia's most widely read IT websites, has named Shuttle the number 1 SFF manufacturer of 2004. This is the second year in a row Shuttle has won the "Reader's Choice" award, a credit to our success as the market and industry leader.
Of the 20,000 readers that voted in this annual poll, a massive 56% chose Shuttle as the best manufacturer for 2004. We would like to say thanks to everyone at Xbit Labs for their long-standing support of the SFF industry.
---
About Shuttle
Shuttle Inc. (stock code: 2405) focuses on software and hardware integration and IoT application to develop solutions to meet commercial and vertical market needs, including mini-PCs, multimedia players, digital signage, kiosk, face recognition, and IoT custom design services. With enduring research on emerging technologies, regarding users' experience as a priority, Shuttle continuously offers diversified services to help clients create more business value.
Contact US
Marketing Dept.
No. 30, Lane 76, Rei Kuang Rd.,
Nei-Hu Dist., Taipei, Taiwan
Tel: +886-2-8792-6168
Fax: +886-2-8792-6268
E-mail:
shuttlepr@tw.shuttle.com