Shuttle named No1. SFF maker 2004
2005/02/18
Global / Awards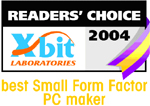 Shuttle named No1. SFF maker for 2004 for the second year in a row! Xbit Labs, one of Russia's most widely read IT websites, has named Shuttle the number 1 SFF manufacturer of 2004. This is the second year in a row Shuttle has won the "Reader's Choice" award, a credit to our success as the market and industry leader.
Of the 20,000 readers that voted in this annual poll, a massive 56% chose Shuttle as the best manufacturer for 2004. We would like to say thanks to everyone at Xbit Labs for their long-standing support of the SFF industry.
---
About Shuttle
Founded in 1983, Shuttle Inc. (TAIEX 2405) is the world's leading manufacturer of Small Form Factor (SFF) Computers, so far, Shuttle's hardware product development has extended to slim PCs, AIO PCs, Notebooks and Tablets for home, business and vertical applications as Digital Signage, POI/POS and Kiosk.To answer the trends of IoT and cloud applications, Shuttle started to build up its software and integration R&D capabilities since 2011 and launched numerous of smart solutions for Face Recognition, Education, Home Automation and Long-term Care applications.
Contact US
Marketing Dept.
No. 30, Lane 76, Rei Kuang Rd.,
Nei-Hu Dist., Taipei, Taiwan
Tel: +886-2-8792-6168
Fax: +886-2-8792-6268
E-mail:
shuttlepr@tw.shuttle.com