PCW UK, SG33G5M 권장 제품으로 선정

영국의 가장 오래된 역사를 가지고 있으며 높은 신뢰도를 지닌 컴퓨터 잡지인 퍼스널 컴퓨터 월드(PCK)가 최근호에서 셔틀 XPC 글래머 SG33G5M에 5점 만점에 5점을 부여하며 권장 제품으로 추천했다.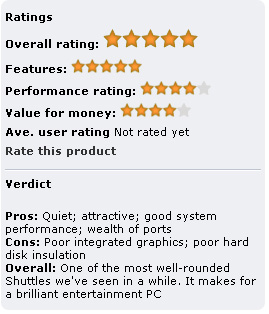 편집자 라슨은 "SG33G5를 직접 하이엔드 부품 위주로 조립해서 사용해보았으며 고성능 CPU 쿨러와 열을 효과적으로 후면부로 배출하는 히트파이프 유닛으로 매우 정숙한 환경에서 사용할 수 있었고 너무나도 조용해서 하드 디스크의 구동소리가 오히려 크게 들리 정도였다"고 셔틀 XPC의 장점을 극찬했다.
---
About Shuttle
Shuttle Inc. (stock code: 2405) focuses on software and hardware integration and IoT application to develop solutions to meet commercial and vertical market needs, including mini-PCs, multimedia players, digital signage, kiosk, face recognition, and IoT custom design services. With enduring research on emerging technologies, regarding users' experience as a priority, Shuttle continuously offers diversified services to help clients create more business value.
Contact US
Marketing Dept.
No. 30, Lane 76, Rei Kuang Rd.,
Nei-Hu Dist., Taipei, Taiwan
Tel: +886-2-8792-6168
Fax: +886-2-8792-6268
E-mail:
shuttlepr@tw.shuttle.com