영국 PC 월드 SN68PTG6 Deluxe 추천 제품으로 선정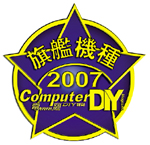 영국의 유명 컴퓨터 잡지인 PC 월드가 셔틀 SN68SG6 Deluxe를 별 5개 만점에 4개를 부여하며 권장 제품으로 추천했다.

SN68PTG6 Deluxe는 엔비디아 nForece 630a 칩셋으로 GeForce 7050PV 그래픽 코어를 내장하고 HDMI 단자와 VGA 출력 단자를 구비하고 있으며 ICE 2 모듈과 저소음 파워 서플라이로 시스템의 온도를 낮추면서 정숙한 사용환경을 제공한다.

PC 월드의 에디터는 셔틀의 소형 폼 팩터 컴퓨터가 사용자들이 항상 원해왔던 시스템이라며 이를 격찬했다.

Source: Computer DIY Magazine No. 123, page 188-189.
Related Products:
---
About Shuttle
Shuttle Inc. (stock code: 2405) focuses on software and hardware integration and IoT application to develop solutions to meet commercial and vertical market needs, including mini-PCs, multimedia players, digital signage, kiosk, face recognition, and IoT custom design services. With enduring research on emerging technologies, regarding users' experience as a priority, Shuttle continuously offers diversified services to help clients create more business value.
Contact US
Marketing Dept.
No. 30, Lane 76, Rei Kuang Rd.,
Nei-Hu Dist., Taipei, Taiwan
Tel: +886-2-8792-6168
Fax: +886-2-8792-6268
E-mail:
shuttlepr@tw.shuttle.com